1WIN Gaming Account Bonus
We present a welcome bonus exclusively for new players. The offer can be requested once per person, email, payment account and IP address. Combination with other offers or promotions before the welcome offer is unlocked is excluded. Any misuse will result in account closure. Crediting takes place automatically as soon as the first deposit is credited to your gaming account. The amount will correspond to the amount of the first deposit from 10 to 1000 e maximum.
Before the appropriate bonus amount can be claimed, multiple bets must be played three times. Only combined bets on a minimum of three different competitions and with a minimum odds of 1.40 will be taken into account. In addition, customers will have to verify their account by sending a copy of their ID card or passport.
How to get bonuses from 1win
Step 1:
To get the bonus, you need a game account. It takes a few minutes to open it, you just need to click on the "register" button. You can open an account by phone, email or social media. Follow a few steps and, without having to confirm your account, you now have full access to the functionality of the gaming platform. Pay special attention to the fact that when you register you can choose which bonus you will receive. There are three options to choose from: 500% for sports betting, 500% for casino games or a cashback of 30% of the money spent.
Step 2:
You can now make your first deposit. This will entitle you to a bonus. The minimum deposit is $0.1. We recommend making the maximum possible deposit in order to be able to use the offer in full. The bonus is confirmed immediately after making a deposit.
Step 3:
After making a deposit, a bonus from
1win
will be credited immediately to the game account. Don't forget that you must wager 3 times the amount of the bonus. Read the wagering rules carefully to continue the unblocking process and take full advantage of the offer.
Step 4:
It's time to enjoy the offer. Bear in mind that there is no time limit on the bonus. The biggest hurdle is that only expresses count.
First, try to increase your real money balance. To do this, you can count on all types of markets and bets. The minimum odds do not count. This bet will not count towards the bonus, but that's not a problem. Ideally, you should increase your bankroll by 500 percent before trying to unlock the bonus.
Once you have the earnings in your pocket, you can start wondering about the appropriate bets for the bonus. To minimise the combined bets, you need to do a more in-depth search. Once again, there is no rush, you have time. If you consider a tennis game, for example, the minimum required odds ratio can be achieved quite easily. It is important to increase your bankroll by choosing the safest odds.
Regular bonuses
The bonus offers are not limited to the welcome bonus for new players. In addition to this offer, there are also regular bonuses at 1win: Leaderboard, Cashback up to 30% on Casino and Express Bonus.

Leaderboard
The Leaderboard is a ranking list showing the players who have placed the highest number of bets and spins within a certain period of time. Leaderboards are divided into tournaments: daily and weekly. In order to take part you have to bet on sports events. The higher the stake and the odd of the event (you can participate by betting odds 1.6 and above), the higher the chances of getting into the top of the leaderboard and taking the cherished first places in the leaderboard. Place as many bets as you can, and you will make it to the top of the leaderboard!
Casino cashback
Are you a fan of playing slots? Then this casino cashback will definitely be of interest to you. It is no secret that not every player is able to win the coveted jackpot. However, now players can get some of the lost funds back into their balance. Cashback only works in the slots section and is based on the amount of money lost during the week. The higher the amount, the higher the percentage (but no more than 30%). Refunds will be credited to your player account every Saturday at 00:00 and will be available immediately after they are credited. No cashback!
Express bonus
Let's move on to the most intriguing kind of bonus - the Express Bonus. Let's take a closer look at what it is and how to use it.
A lot of players use this type of betting as a parlay. If you are confident in your skills and knowledge, and you accumulate more than 5 events in a "press", 1win will give you an extra percentage of your winnings if you win.
A winning parlay with 5 events will give you an additional 7% of your winnings;
6 events - 8%;
7 - 9%;
8 - 10%;
9 - 11%;
10 - 12%;
11 and more events - 15%.
Important condition! To participate in the programme, you must select outcomes with odds higher than 1.3! Here is a simple example: If you select a multi betting odds of 14.5 and place a $1000 bet on it, you will make a net profit of 13500, 1win will credit your net profit by paying an 8% bonus to that total, for a total of $14580!
Promotions and offers
In order to fuel the excitement of avid players, as well as those just starting out, you can find plenty of offers from the gaming platform in the bonuses and promotions section of 1win. There are over 15 different promotions to choose from that are sure to catch your interest. Here the player will find a freespin on deposit, tournaments from leading slot developers (Endorphina, Bgaming, and others), Jackpot as well as bonuses and promotions for poker fans.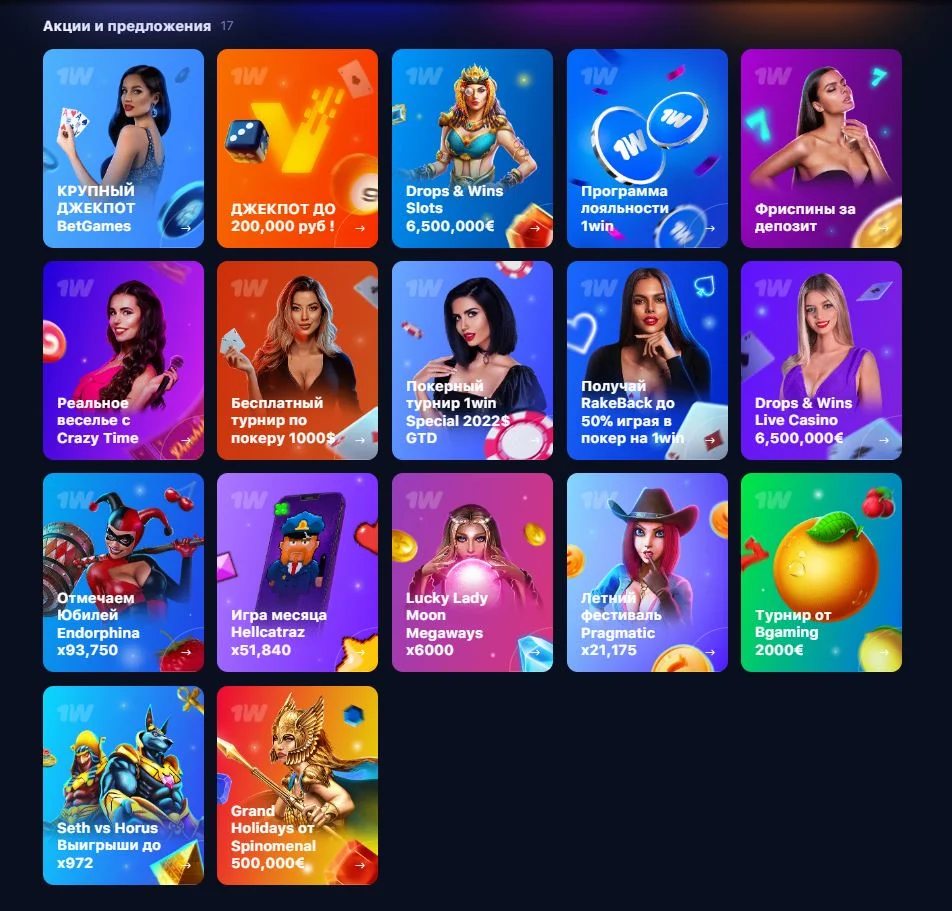 Carefully read the terms and conditions of the promotions, some of them require unique conditions to be met. The section is updated from time to time, so please remember to check the validity and expiry dates of the promotions you are taking part in.
Free money into your account
The "Free Money" button on the top left-hand menu on the home page has a distinctive dollar icon with wings. This is where 1win's free bonuses are located, and when they are fulfilled, gamers receive money into their gaming account.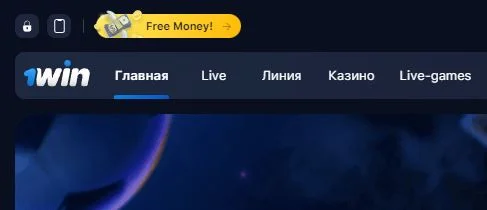 The difficulty of the bonus tasks is extremely simple and often limited to simply signing up for 1win's social media accounts or the app installation bonus. The terms and conditions are detailed on the website so you should have no trouble completing them.
Once the requirements are met and verified, the free money is credited to the bettor's bonus account. No deposit is required! However, keep in mind that almost all bonus points have wagering conditions.
1win coins for subscription
Previously, we told you about the 1win coins loyalty programme, in which players earn domestic coins and exchange them for real money. By completing all the items in the 1win coins section for subscribing to the Vkontakte group, the betting company will credit 100 coins. The following steps are required in order to receive the privilege:
Subscribe to the Vkontakte group;
Enable community notifications;
Sign up for bonuses so you can find out about all the latest promotions and offers from 1win;
Repost the entry on your personal page.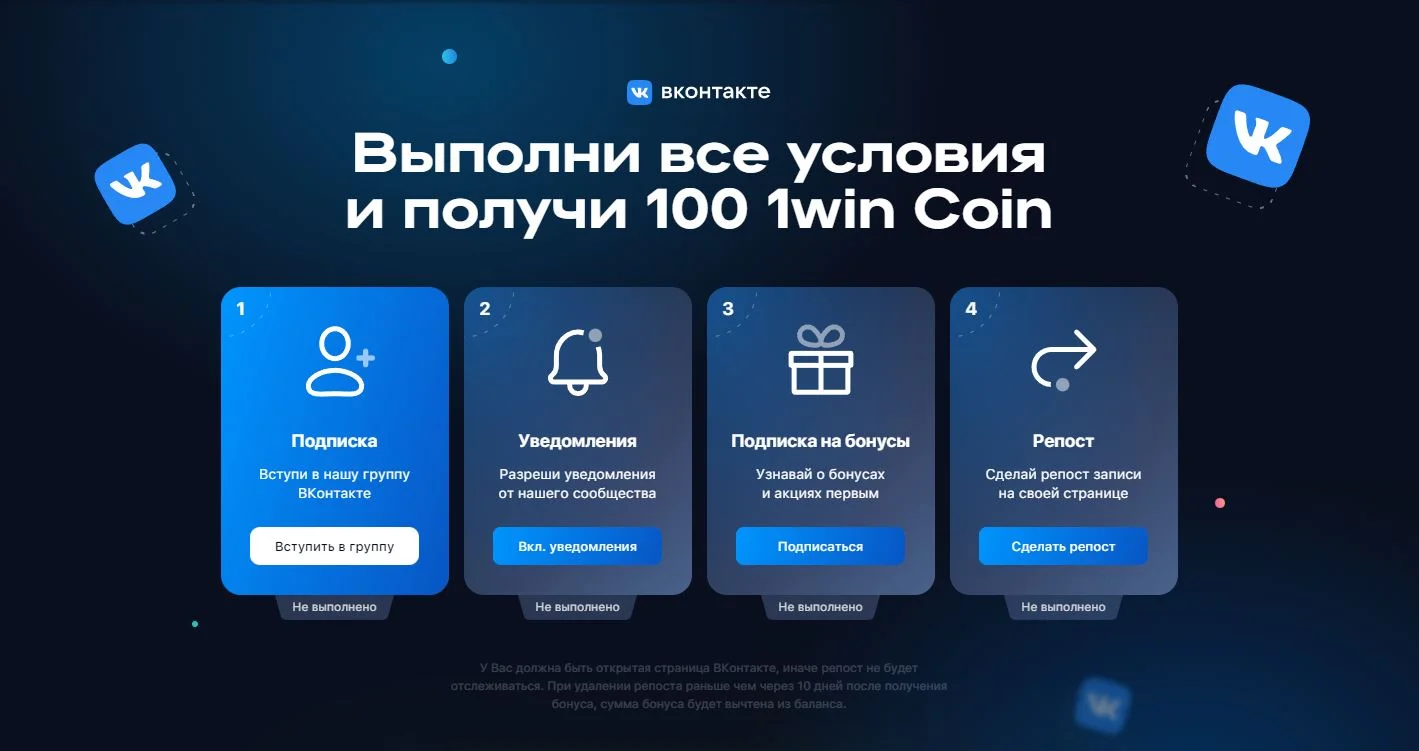 An important condition for checking is that your social networking page must be open to users who are not on your friends list.
Handing out money
The other types are extremely similar to the previous one and consist of giving away money for performing specific actions. If you are an iPhone owner, install your 1win rewards card in your Apple Wallet. For this, the company will credit your account with 100 1win coins and you will also receive vouchers to top up your account!
A similar scheme applies to the following punts. By signing up for push notifications on the site, a player will receive $100 to their bonus account, and by becoming a member of the 1win Telegram Channel, you can always receive the latest vouchers and company news.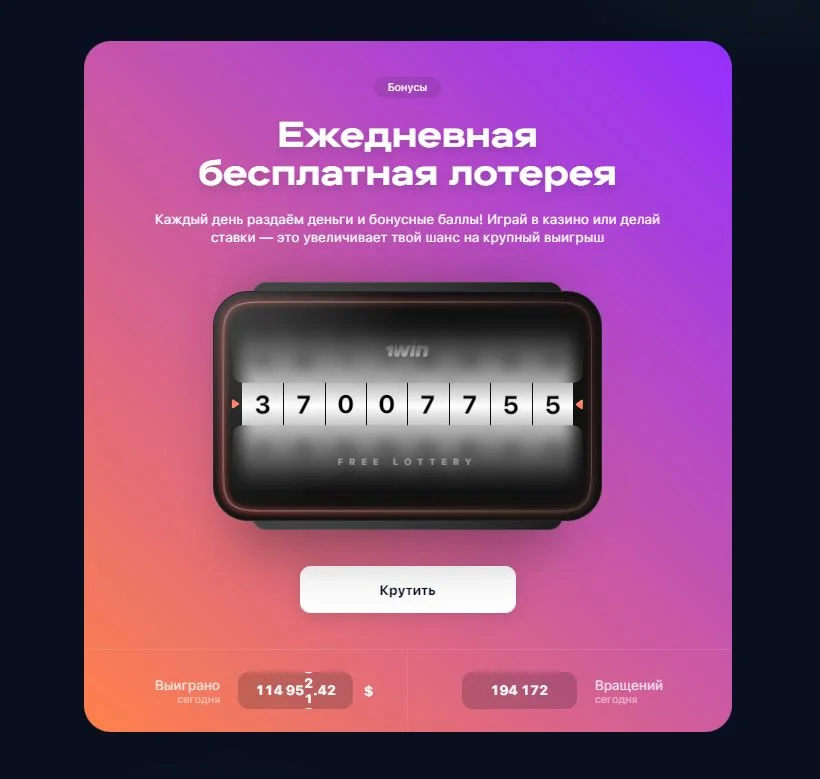 Don't forget to take part in the daily free lottery. Every day, registered visitors spin the reel and win prizes ranging from cash to account bonuses. The higher your bets in the casino and promotional activities, the bigger the prizes will be in your bonus account!